Classified ad details
Latest 3D Metal Detector-GROUND NAVIGATOR - Other electronics
Ref. number: 43681 Updated: 25-02-2020 09:48
| | |
| --- | --- |
| | |
If you are looking for a ground scanner and metal detector, GROUND NAVIGATOR may be the perfect one for you. It is the latest model from OKM Metal Detectors-Germany.

Ground Navigator is a deep ground scanning device that can scan up to 45 meters deep and shows the scan result in 3D graphics. Through its 3D feature, you can easily determine if there is any unusuality under the ground such as the presence of buried metals and artifacts and even those stuctures hidden under the ground such as underground caves, tunnels, basements and the likes. It is even possible to know the location, depth, size and position of the target before excavation with the help of the 3D software.

Ground Navigator is equipped with telescopic super sensor which can be adjusted in length depending on the operators preference. This super sensor can detect small objects which may be of great value such as gold nuggets, coins, rings, and other buried valuable metallic objects.

The device is also supported with magnetometer to find any ferromagnetic materials. It is used for a quick pre scan that allows trash removal on the ground surface before conducting a real 3D ground scan.



Images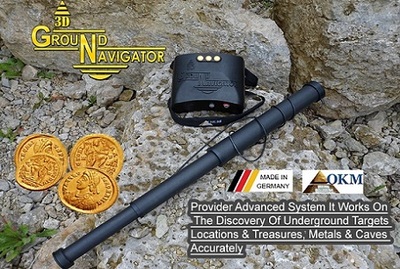 Contact information
| | |
| --- | --- |
| Full name: | Gold Master General Trading |
| Phone number: | 503010577 |
Ask about this ad